FIGURE 8 INK STUDIOS RELOCATES TO NEW BUILDING ON COURTHOUSE ROAD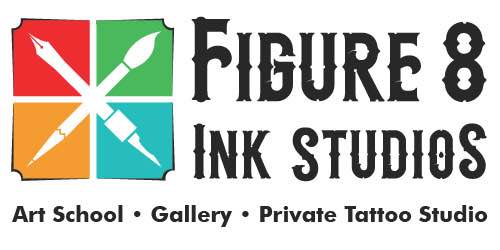 (Fredericksburg, VA, January 17, 20) – Coldwell Banker Commercial Elite congratulates Figure 8 Ink Studios on their purchase of 10745 Courthouse Road in Spotsylvania County, represented by Allison Graves, CCIM. Figure 8 Ink Studios is relocating from 10813 Courthouse Road into this much more visible and easily accessible location at the corner of Mine Road and Courthouse Road.
Owned by Tricia Atkinson of Fredericksburg, Figure 8 Ink Studios offers art classes, paint parties and piercing as well as tattooing. Figure 8 Ink Studios offers an outlet for integrating the arts into everyone's weekly schedule! They teach a classic Fine Arts approach with a modern old town vibe, celebrating inspiration from both art history and modern working artists, facilitating relevant projects that embrace the students' personal style & passion.
About Coldwell Banker Commercial Elite
As the Fredericksburg region's largest commercial real estate company, Coldwell Banker Commercial Elite is the premier commercial real estate market leader. Coldwell Banker Commercial Elite was awarded the #1 Coldwell Banker Commercial Affiliate Office in Virginia for the past 6 years (2013-2018)! The Coldwell Banker Commercial Elite Team is as dedicated to your success as you are. Our company provides in-depth commercial real estate solutions and services including landlord and tenant representation, buyer and seller representation, property management, investment acquisition and disposition services and development consulting. Our primary focus area consists of the greater Fredericksburg region (Stafford, Spotsylvania, King George, Caroline, City of Fredericksburg), while also servicing the Washington, D.C. Metro area and all of Virginia. For more information, visit: www.cbcelite.com