Fredericksburg Virginia Region
---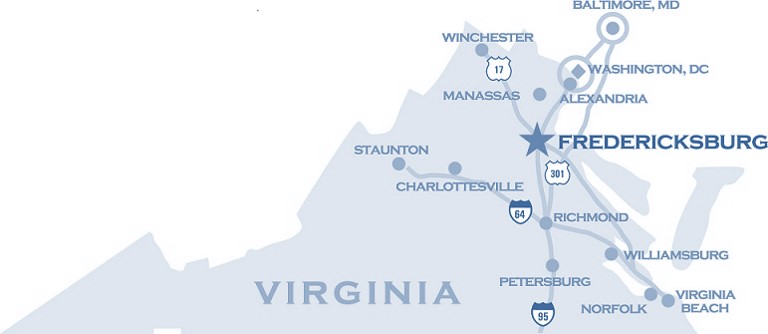 The Greater Fredericksburg Region encompasses 1,400 square miles of land area and comprises of the City of Fredericksburg and the surrounding counties of Spotsylvania, Stafford, King George, and Caroline. Strategically located midway between Washington D.C. (the 4th largest market in the U.S) and Richmond, VA, the region offers outstanding business, educational and recreational opportunities.
As of 2015, the Fredericksburg Region had a total population of nearly 350,000 and is anticipated to double in the next 25 years. The Fredericksburg Region has consistently been the fastest growing region in the Commonwealth of Virginia and is nationally ranked as well. The counties of Spotsylvania and Stafford are projected to be the fastest growing suburbs of Washington D.C. through 2040.
Civil War Battlefields, Golf Courses, Marinas, Wineries and other exciting amenities throughout the Region annually provide an endless inflow of tourists. The Fredericksburg Region offers countless recreational activities from boating on the Potomac and Rappahannock river to attending concerts at Celebrate Virginia Live.
Propelling the population growth is the Region's Employment base. Ranked as the #1 Growth Region, the Fredericksburg area has seen the highest rate of business growth in Virginia for the past 5 years. The Region is home to 3 large military installations including Marine Corps Base Quantico, Dahlgren Surface Naval Warfare Center, and Fort A.P. Hill, which combined infuse over $7 billion into the economy yearly.
The Region's population growth has spurred housing market expansion and has played a major role in economic growth, assisting in the overall recovery from the "great recession".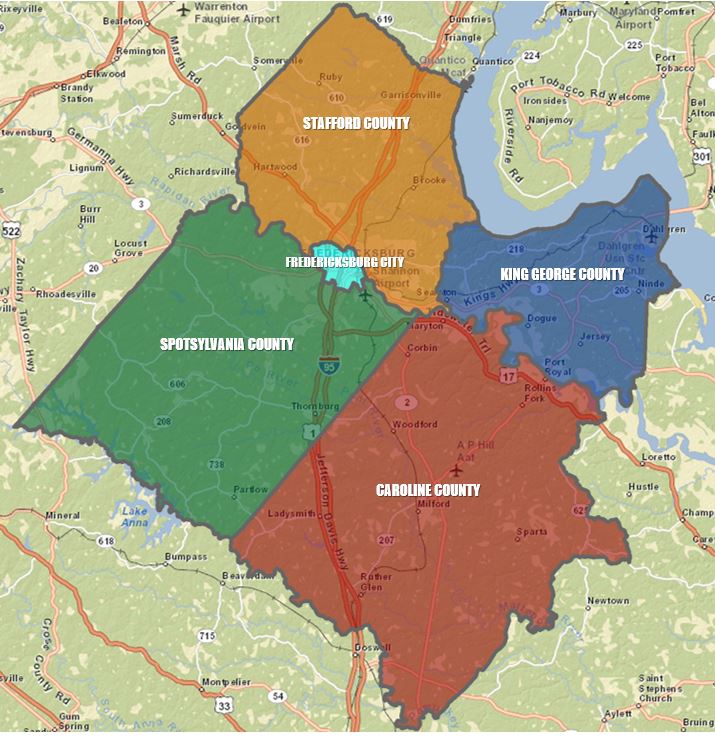 Quick Highlights | City of Fredericksburg
The City of Fredericksburg is the fastest growing locality in the Commonwealth of Virginia!
The City of Fredericksburg is rich with historical attractions, over $157 million spent annually on Tourism
Nearly 40% College Degree attainment
#5 Of the Top on USA Today's "10 Best College Towns in the US"
Home to the University of Mary Washington: Enrollment: 5,200
Quick Highlights | Greater Fredericksburg Region
The Fredericksburg Region has a total population over 350,000
Located 50 miles south of Washington D.C. and 50 miles north of Richmond, VA
3 Military Installations located in the Region: Marine Corps Base Quantico (Stafford), A.P. Hill (Spotsylvania), Dahlgren (King George); These bases employ over 40,000 people and produce an economic impact of $7 Billion annually
5 VRE (Virginia Railway Express) Stations
Tourism Spending in the Fredericksburg Region totaled over $676 Million in 2015 and of that $266M was spent in Spotsylvania County
3 Hospitals: Spotsylvania Regional Medical Center, Mary Washington Hospital, Stafford Hospital
Major Employers include: Geico, Department of Defense, FBI, Mary Washington Healthcare
One of the fastest growing Regions in Virginia and the U.S. and boasts some of the highest household incomes in the Nation
Fredericksburg Region Infographic