Retail Spaces for Rent in Fredericksburg, VA

If you are seeking retail spaces for rent, Fredericksburg has so much to offer. No matter what type of space you're after, Fredericksburg is full of unique options to meet your needs. Here are a few highlights from Coldwell Banker Commercial Elite's current listings.
Retail Spaces for Rent
Unique and Stunning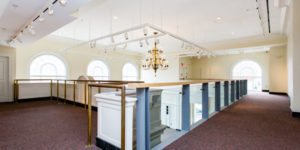 1001 Princess Anne St., Fredericksburg, VA 22401
The most unique retail space available in Downtown Fredericksburg. This grand two-story space offers 4,697 sq. ft., lit with large beautiful windows and accented with unmatched, stunning historical architecture. This space also includes a 900 sq. ft. mezzanine overlooking the main level, that could be used for additional shop space, dining area and more.
The property is located on one of the most high-profile corners in Fredericksburg's historic downtown district. Situated at the signalized intersection of Princess Anne Street and William Street (30,000 VPD combined) the building is in the center of dining nightlife and shopping within Downtown Fredericksburg. The property benefits from high visibility in a high foot traffic area that is in walking distance to the University of Mary Washington (5,000 students)
Historic and Multi-Functional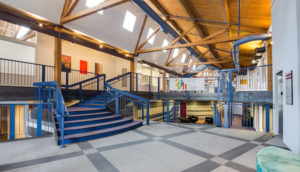 725 Jackson Street, Fredericksburg, VA 22401
4 Office Suites Available for lease at Mill Race North, a unique office building in downtown Fredericksburg:
Suite 101: 3,500 sq. ft.
Suite 104: 2,628 sq. ft.
Suite 206.5: 605 sq. ft.
Suite 211: 1,400 sq. ft.
Large Multi-Tenant office building formerly a textile factory. Building features unique architecture, vaulted ceilings and skylights. Multiple suites available. The property is located in the heart of Downtown Fredericksburg within walking distance to VRE/Amtrak Station. Located within the current HUB Zone.
Bright, Airy, and Versatile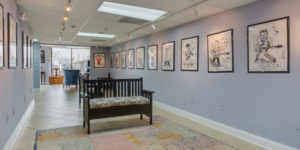 100 Taylor Street, Colonial Beach, VA 22443
Fine Arts Gallery available in downtown Colonial Beach, VA. There are two suites available for sale or lease that can be purchased/leased separately or together.
The space is situated on the street level of new condo building, featuring 5 gallery rooms, 2 storage rooms, kitchen, two bathrooms, and a spacious private office. The unit is ideal for art gallery, boutique retail shop, medical practice, office and more.
100 Taylor Street is located in the heart of Downtown Colonial Beach, an established tourist destination for over 50 years. Just 300 feet from the Potomac River boardwalk and beach, which is the second longest beach in Virginia.