Tourism & Economy
---
In 2015, domestic travelers spent $22.9 billion on transportation, lodging, food, amusement, and recreation, as well as retail shopping in Virginia. This represents a 2.4 percent increase from 2014.
Foodservices, auto transportation, and lodging are the top three spending categories for domestic travelers in Virginia. Domestic travelers spent $6.8 billion on food services including restaurants and other eating and drinking places in 2015, up 6.0 percent from 2014. Domestic travelers spent $4.7 billion on auto transportation including variable costs of operating an automobile, camper, or other recreational vehicles on a trip, such as gasoline, oil, tires, and repairs. The costs of renting an automobile or other motor vehicle are included in this category as well. The big drop in auto transportation spending largely caused by a sharp decrease in motor fuel prices. Spending on lodging including hotels/motels, campgrounds, timeshare and vacation homes rentals was over $4.4 billion in 2015, accounting for 19.3 percent of domestic travelers' spending, up 7.4 percent from 2014.
Domestic travelers spent $3.1 billion on public transportation in 2015, up 3.4 percent from 2014. This includes domestic travelers' purchases on air, bus, rail, boat/ship, and taxicab or limousine services, as well as any sightseeing transportation.
Retail shopping is one of the major activities of people traveling in Virginia. In 2015, domestic travelers spent close to $2.2 billion on purchases at retail stores. Retail shopping accounted for 9.4 percent of domestic travelers' trip spending in Virginia.
In 2015, travelers spent nearly $1.7 billion on recreation facility user fees, admissions at amusement parks and attractions, attendance at nightclubs, movies, legitimate shows, sports events, and other forms of entertainment and recreation services.
Domestic Travel Expenditures in Virginia by Industry Sector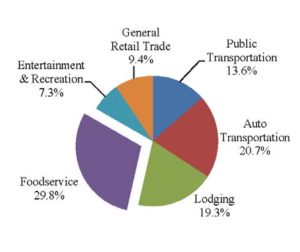 $676 Million was spent by domestic travelers locally in the Fredericksburg Region in 2015.
Spotsylvania County ($266M) Fredericksburg ($171M), Stafford County ($127M), Caroline County ($91M), King George County ($21M)