WEGMANS FOOD MARKETS PURCHASES LAND IN HANOVER COUNTY FOR MASSIVE $175M DISTRIBUTION CENTER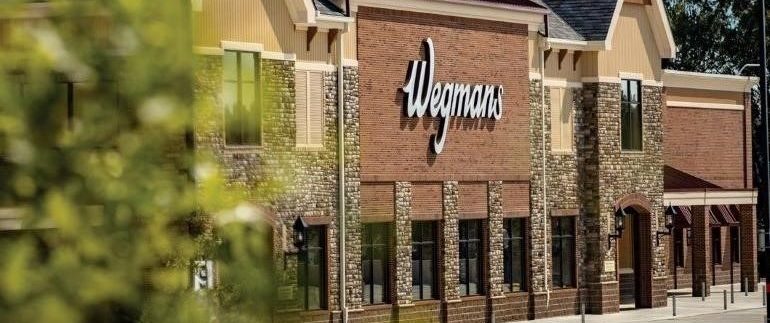 (Fredericksburg, VA, December 16, 19) – Donny Self, CCIM and JR Burdette with Coldwell Banker Commercial Elite were proud to represent Wegmans Food Markets during their three-year-long property search and subsequent purchase of land in Hanover County for a massive $175 million regional distribution center. Estimated to open in 2022 and create up to 700 jobs by 2026, the 1.1 million-square-foot full-service distribution center serves to help Wegmans expand their network on the East Coast.
Donny Self's partnership with Wegmans Food Markets began in 2013 when he helped them lease a large vacancy next to their store in Celebrate Virginia. When Wegmans decided to expand its footprint in Virginia, Donny's long working relationship with Wegmans' Real Estate Team was invaluable during their search for a suitable property. In 2016, Donny brought on JR Burdette for his considerable acquisition experience to assist with the distribution center search.
After Self and Burdette presented and visited numerous sites throughout Spotsylvania, Caroline County, Chesterfield and Hanover County, Wegmans decided on the tract along Sliding Hill and Ashcake Roads off I-95. Wegmans President and CEO Colleen Wegman was thrilled with the purchase, stating "This site has the right combination of everything we were looking for in terms of proximity to our stores and workforce, and is located in a commonwealth that we have partnered with for many years…Once it's up and running, this facility will allow us to deliver products to our southern-most stores with increased speed and freshness and will help support our growth well into the future."
Virginia edged out North Carolina in the competition for the new distribution center which will create 700 jobs, thanks in part to the Virginia Economic Development Partnership, Hanover County, and the Greater Richmond Partnership. Governor Ralph Northam applauded Wegmans' acquisition and development plans, stating "It's a significant win when a business decides to create 700 full-time, well-paid jobs, and we are proud that a company of Wegmans' stature has chosen to establish its major new operation in Hanover County. Virginia is a world-class transportation and logistics hub, and the location of this campus will greatly enhance Wegmans' fast-growing East Coast distribution network."
About Coldwell Banker Commercial Elite
As the Fredericksburg region's largest commercial real estate company, Coldwell Banker Commercial Elite is the premier commercial real estate, market leader. Coldwell Banker Commercial Elite was awarded the #1 Coldwell Banker Commercial Affiliate Office in Virginia for the past 4 years! The Coldwell Banker Commercial Elite Team is as dedicated to your success as you are. Our company provides in-depth commercial real estate solutions and services including landlord and tenant representation, buyer and seller representation, property management, investment acquisition and disposition services and development consulting. Our primary focus area consists of the greater Fredericksburg region (Stafford, Spotsylvania, King George, Caroline, City of Fredericksburg), while also servicing the Washington, D.C. Metro area and all of Virginia. For more information, visit: www.cbcelite.com